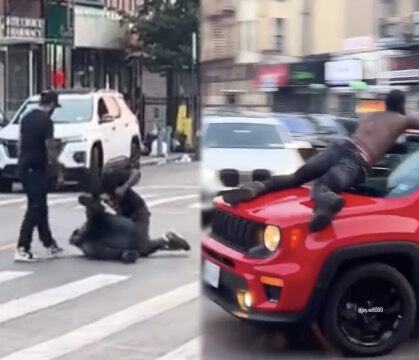 Introduction
The streets of a city can witness a wide range of events, and sometimes, circumstances take an unexpected twist. The incident of Buddy's altercation, subsequent defeat, and his ensuing erratic behavior in the Brooklyn streets highlights the unpredictable nature of conflicts and their aftermath. This article takes a closer look at the escalation of events, the reactions that unfolded, and the lessons to be learned from such occurrences.
Setting the Scene
The title, "Well, That Took a Turn: Buddy Got His Azz Whooped and Started Acting a Fool in Those Brooklyn Streets!" instantly captures a moment of unexpected chaos and introduces a scene of tension.
Escalation of a Conflict
Conflicts can escalate rapidly, leading to unforeseen outcomes. The narrative delves into the events that transpired and the factors that contributed to the escalation.
The Impact of Defeat
Defeat can trigger intense emotions and reactions. Buddy's defeat serves as a catalyst for his subsequent erratic behavior.
Unpredictable Responses
Individuals can respond in unpredictable ways when emotions run high. Buddy's behavior in the aftermath highlights the range of reactions that can occur.
The Role of Public Spaces
Public spaces provide a backdrop for a variety of interactions, including conflicts and their aftermath. The Brooklyn streets become a stage for this incident's unfolding.
Reflection on the Heat of the Moment
The incident prompts consideration of the impact of emotions and the heat of the moment on individuals' behavior and decision-making.
Learning from Unexpected Turns
Unexpected turns like these serve as reminders of the importance of maintaining composure, even in the face of conflict and defeat.
FAQs
Q: What led to Buddy's erratic behavior after the altercation? A: Buddy's erratic behavior may have been a result of the intense emotions triggered by the altercation and subsequent defeat.
Q: How do public spaces contribute to incidents like these? A: Public spaces can serve as a backdrop for a wide range of interactions, including conflicts and their aftermath.
Q: What can this incident teach about responding to defeat? A: This incident highlights the potential impact of defeat on emotions and behavior, encouraging reflection on how to handle such situations.
Q: How can individuals maintain composure in the heat of the moment? A: Maintaining composure requires emotional awareness, self-control, and the ability to step back from intense situations.
Q: What lessons can we learn from unpredictable responses in conflicts? A: Unpredictable responses underscore the need for emotional regulation and reflective decision-making, especially in heated situations.
Q: How can this incident prompt conversations about behavior in public spaces? A: The incident can initiate discussions about how individuals should conduct themselves in public spaces, especially in the aftermath of conflicts.
Conclusion
"Well, That Took a Turn: Buddy Got His Azz Whooped and Started Acting a Fool in Those Brooklyn Streets!" serves as a cautionary tale of how conflicts can escalate and lead to unexpected behaviors. The incident underscores the unpredictable nature of reactions in high-stress situations and highlights the significance of emotional regulation, even when faced with defeat. As we navigate public spaces and interactions, this story prompts us to reflect on how emotions, conflicts, and their aftermath shape our behavior and decisions.